Swimming lessons

Learning to swim is an important life skill. Our swimming lessons are delivered by our friendly and experienced teaching team in a fun and engaging way to ensure that your child is safe and confident in the water.
Our lessons
Our lessons follow the Swim England 'Learn to Swim' programme. Here at Zest, we also have additional sub-criteria unique to our pool, to help them to develop a strong swimming technique. Once your child has achieved the criteria for each stage, for a small fee, a badge and certificate can be purchased at reception.
Our fully qualified and highly experienced instructors are fully DBS checked so you can ensure that your child is in safe hands.
We run just two classes at the same time, which allows ample pool space for your child to enjoy their swimming lesson. This is a unique setup amongst swimming lesson offerings in Sheffield. There is a maximum of 10 children in stages 1 and 2 and 12 in stages 3 to 7.
To join our waiting list please fill in Swimming Lesson waiting list form
We are no longer accepting brand new swimmers, i.e those that can not swim without aids (backboards and armbands). We will provide an update at the end of 2023.
Take a look at our most frequently asked questions to find out more or download our FAQ booklet.
View our swimming lesson times and stages.
Our lessons run in blocks of 6 – find out more about our payment blocks and dates
Submit your details below to enquire about booking your child onto our swimming lessons.
Our Stages 1-7
Stage 1
Stage 1 introduces basic water confidence skills using back floats and arm rings. The children are taught front crawl and backstroke leg kick whilst maintaining a horizontal body position over short distances. We teach your child how to swim on their side, float and push off from the side of the pool. Your child will become confident in putting their faces in the water and they will learn basic pool safety. At Zest, we also introduce breaststroke legs and show them how to jump in safely.
Stage 2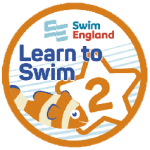 At the start of stage 2, back floats are still allowed but no arm rings. By the end of stage this stage, we expect your child to be swimming without aids over longer distances. We build on what was learned in stage 1, introducing a more streamlined body position and teaching push and glides and basic rotations. We introduce backstroke and breaststroke arms and develop front crawl arm practices further.
Stage 3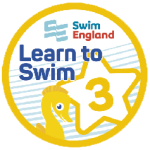 In stage 3, the children become more confident as they begin to explore all four strokes. We introduce a dolphin kick and overarm recovery in the front crawl. We also teach breaststroke with the feet turning out and develop the backstroke arms further. Push and glides are advanced to add in more complex rotation and we expect children to jump in and reach the bottom of the pool. We progress your child's stamina and control by increasing the distances they will be able to swim.
Stage 4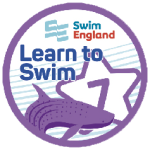 Stage 4 develops more efficient stroke techniques for the full length of our pool – 16-18 metres. A higher level of skills is required to pass this stage, and a new stroke is introduced at this stage – the Butterfly. We advance the other strokes, with front crawl side rotation and highlight the glide in Breaststroke. Backstroke techniques are advanced highlighting continuous arms. We introduce push and glides to the bottom of the floor and rotations whilst continually swimming.
Stage 5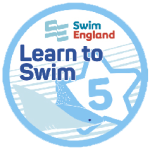 Through level 5 we ensure that all swimmers can perform all four major strokes, reinforcing what has been learned in stages 1 to 4. We teach more efficient techniques for the whole length of the pool building on your child's stamina and strength even further. The butterfly stroke is advanced and we introduce treading water, sculling, handstands and forward rolls.
Stages 6 and 7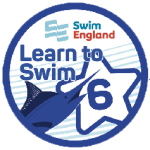 We combine levels 6 and 7 together. We teach more advanced and efficient swimming techniques for all four strokes. Children need to demonstrate that they can swim up to 100m using a minimum of three strokes. We develop treading water techniques and introduce diving and lifesaving techniques including swimming a length of the pool with clothes on.
Your child's swimming journey doesn't stop here. After stage seven you will be signposted to local clubs and local initiatives that offer progression opportunities for your child.
Frequently asked questions
Preparing your child for lessons
Information about your swimming instructors
Medical issues, cancellations and other useful information
Other Swimming Services
Enquiry Form
To find out more about any of our services, please use the enquiry form below. Your message will be sent to the relevant team member, who will be in touch soon!