Disabled and Adult Only Swim

We offer 'quiet adult /disabled swim' sessions for those that may require extra assistance. These sessions cater for disabled customers of any age and anyone else over the age of 16 who would like a quieter swim.
These sessions are for those with a disability. Please be aware there will be people with seen and unseen disabilities. We ask everyone to be respectful of this. The session may on occasions be noisy. Disabled children are welcome to these sessions. Adults are welcome for a gentle swim.
Facilities
Our unique facilities include the following:
Disability ramp for ease of access into the pool – the only one of its kind in Sheffield
Automatic doors
Free admission for carers helping a disabled person take part in an activity.
A pool hoist to assist you in getting you into and out of the pool and an electronic hoist to transfer from wheelchairs to the poolside chair. If you are using our electronic hoist please ensure you bring your own sling.
Four individual and private disabled cabinets, equipped with a shower, hand basin and toilet will provide you with plenty of room to get yourself changed.
Increased water temperature to 31 degrees.
DABS – Disabled and Able-Bodied Swimmers Group
Our pool is rented out by this fantastic group on a Thursday evening between 8pm and 9pm. There is a small charge for this session. Contact us for more information.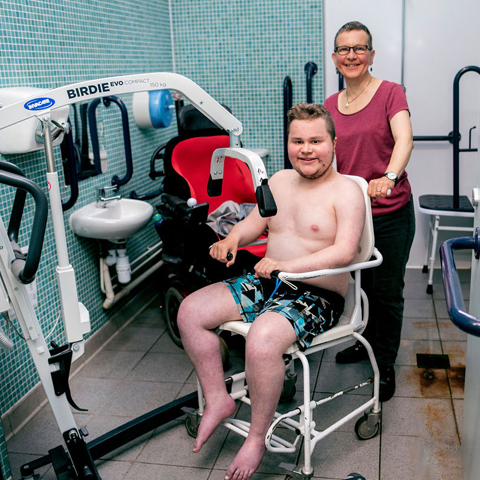 Funding our electronic changing room hoist
Zest provides two hoists, a pool hoist to lower people into the water, and an electronic changing room hoist to allow swimmers in wheelchairs to transfer to the poolside chair so they can be lowered into the water, thanks to one of our wheelchair swimmers, Isaac. More….
Timetable and prices
Photo Credit: @nellynaylorphotography | www.nellynaylor.com
Other Swimming Services
Enquiry Form
To find out more about any of our services, please use the enquiry form below. Your message will be sent to the relevant team member, who will be in touch soon!