Latest News
The COMMUNIT-TEA tent is back!
---
Our 'This Community Can' Tea Tent will be touring your local area in Netherthorpe Upperthorpe and Langsett – you will find:
A friendly welcome and a laugh!
Teas, coffees, biscuits
A chance for a chat
Ideas to inspire you!
Information where needed
We have a new 'This Community Can' Team in place and are really looking forward to meeting you!
Left to right: Emily, Susannah and Bushra. There will also be other active local residents visiting during the sessions to share their thoughts about what we can enjoy doing together for the area.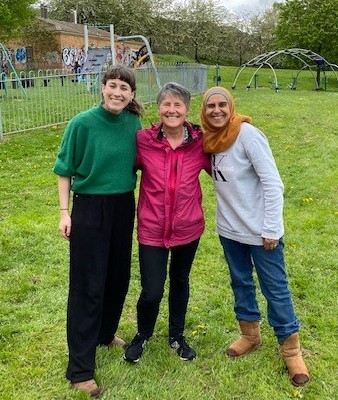 ---
Conversations
We'd love to say hello. If you feel like a chat it would be great to hear about….
Anything you're interested in?
Where, when, how you'd like to meet up with others?
What inspires you about your local area – likes and dislikes?
What you need to make something new happen?
Our Aims
This Community Can, generously supported by the National Lottery Communities Fund, has been running since 2019. We aim to:
Create chances for local conversations to happen and connect people
Help local residents get in touch with other like-minded people
Give a hand and some resources for making great ideas happen which make local life better
What we've been supporting to happen with local residents so far:
Tea Tent on Tour – lots of conversations, cuppas and plenty of good ideas in the pipeline!
Food deliveries during Lockdown
Bulb planting – 3000 bulbs planted by 130 people across 5 local green areas
Family Harvest Day with Ponderosa Nature Group at the Community Orchard
Eid celebration activities at the Ponderosa
Edward Street Flats Beach Day
Community Forum at Langsett which led to……
Light Up Langsett Christmas event with community lights and music everywhere!
Craft Group activities
Early Years activities
Community Wellbeing Survey
Feel welcome to come along to a Tea Tent or get in touch:
For more info contact Bushra: 07784 846623 or Susannah: 07493 721380
email: ThisCommunityCan@zestcommunity.co.uk
Enquiry Form
To find out more about any of our services, please use the enquiry form below. Your message will be sent to the relevant team member, who will be in touch soon!