To warmer waters and kangaroo hopping
Isaac isn't able to stand. His arms are getting weaker these days, he can't bear his own weight and spends much of his time in a wheelchair. But Isaac is a fighter and he loves swimming.
"I like to feel weightless," he says. The water supports him and he's able to move around much more freely, says his mum Kathy.
He's so much more able bodied in the pool, he's like an otter.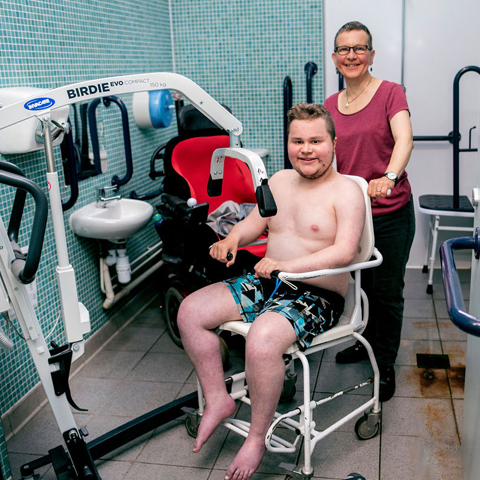 In fact, Isaac has been a swimmer since early childhood well before he lost the ability to walk when he was 14.
Isaac has Duchenne Muscular Dystrophy (DMD) a genetic condition that causes progressive muscle weakness. But that doesn't stop him in the pool.
Every Monday morning, Isaac, who is now 18, travels to Zest from his home in Meersbrook, Sheffield with his personal assistant Nelly.
Physio benefits and warmer pool
Swimming helps with DMD in many ways because it doesn't risk muscle damage, says Kathy. "It has important physiotherapy benefits, allowing Isaac to stand, walk and do some weight-bearing in the water, with exercises like crab-walking and kangaroo hopping.
Swimming gives a supported, relaxed whole-body stretch, which is crucial when he spends so much time sitting in his wheelchair. It helps with stamina and with maintaining flexibility and gives him freedom of the body.
The pool at Zest also makes swimming that bit easier for Isaac because people with DMD are more vulnerable to the effects of cold, adds Kathy. "And the Zest pool is great because it's warmer than most other pools."
"Also, Zest has dedicated sessions for people with disabilities and it's great to be around other people who also use a wheelchair and completely get it. The sessions at Zest are generally quiet as well. And we really like the atmosphere of community and inclusion at Zest."
Need of a lift
But Isaac's first visit to Zest didn't go so well and he went home without even getting in the water.
Kathy recalls, "there was no hoist for the changing room, meaning that Isaac couldn't transfer from his wheelchair to the poolside seat and from there to the existing pool hoist to get into the water."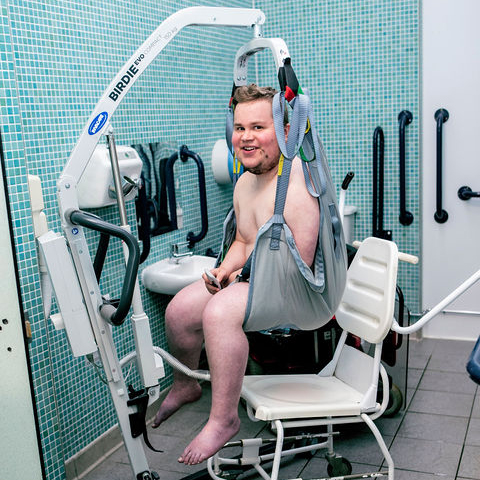 "We saw that at an otherwise accessible and inclusive venue like Zest, a changing-room hoist was the missing link that would enable swimmers like Isaac to access the pool. A hoist would benefit not just Isaac but the many other swimmers in Sheffield who would need a hoist to transfer."
About eighteen months after this visit, Kathy and her family were in a position to approach the Zest centre with an offer to help fund a mobile hoist for the changing room.
"We went halves with Zest, and the centre bought the hoist", says Kathy.
I really enjoy swimming sessions because they are fun and exciting
Isaac now swims at the Zest centre every week and hopes to increase his visits if his busy college schedule allows.
Now through Isaac's love of swimming other people living with similar mobility issues will be able to come and enjoy the warmer waters of the Zest Centre swimming pool.
Thank you, Isaac
Photo Credit: @nellynaylorphotography | www.nellynaylor.com
Enquiry Form
To find out more about any of our services, please use the enquiry form below. Your message will be sent to the relevant team member, who will be in touch soon!