Personal Health Support

Want a healthier lifestyle but don't know where to start?
Social Prescribing Service
Service for patients of the following GP surgeries:
Clover City and Mulberry Practice
Devonshire Green and Hanover Medical Centres
Harold Street Medical Centre
Porter Brook Medical Centre and SHU
Upperthorpe Medical Centre and Ecclesall
Our Health Link Worker can support and assess your needs and provide you with a social prescription – a service or activity – that will benefit your health and well-being, using the 5 ways to wellbeing to identify ways for you to Be Active. Connect. Take Notice. Learn and Give.
The Health Link Worker will arrange an appointment with you and discuss what types of support would benefit you. With your consent they will make suggestions and/or refer you to other services that may benefit your health and well-being and lifestyle. You will be offered support tailored to your own situation and the health link worker will keep in touch with you to review your progress.
To access the service:
If you are registered at any of the practices above – contact your GP and ask for a referral for Social Prescribing. We look forward to working with you.
Health Trainer Service
The Zest Health Trainers Programme is a free and confidential service that can support people on a one to one basis, around changing or leading a healthy lifestyle. Health Trainers also support people living with long term conditions (chronic pain & diabetes type 2).
Health Trainers can support you over a 6-7 week period to set health goals around your health needs. The goals can be healthy eating, weight loss or increase in physical activity, referral to stop smoking, alcohol reduction, and signposting to other services, social isolation, low mood and more. Health Trainers will support you to develop a Personal Health Plan, which will help you to achieve your new health goal.
Health Trainers are friendly, understanding & supportive. They will help and encourage you to achieve and maintain a healthy lifestyle. So why wait?
Contact our Health Trainers: Nighat and Kath at Zest
Phone: 0114 2702040 ext 232
email: health@zestcommunity.co.uk
or submit an enquiry using the form below.
Get Active
If you need help to get healthier and be more active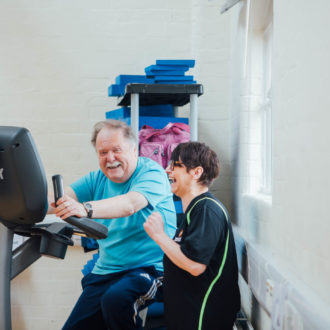 or if you have a health condition, you may be eligible for our exercise on prescription service…
"I think this is a very good service and it has helped me so much and I would definitely recommend this service to people"
Enquiry Form
To find out more about any of our services, please use the enquiry form below. Your message will be sent to the relevant team member, who will be in touch soon!